It's now been a year since the pandemic hit the world. We understand the pandemic is causing tremendous inconvenience to people's lives and therefore, we are interested in finding out how much people miss travelling and what their next travelling plans may be.
In January 2021, the Insight Focus team was working with major international online travel agencies, to understand the traveling needs and plans of Chinese consumers when the pandemic is over, through the Online Omnibus Survey. The survey is a regular syndicated quantitative survey conducted every month by Insight Focus, interviewing 2000 Chinese consumers aged 20-60, in 20 tier 1-3 cities, including Beijing, Shanghai, Shenzhen, Guangzhou, Chengdu, Hangzhou, Shenyang, Fuzhou, Chongqing, Tianjin, Hefei, Kunming, etc.
From the research findings, we notice a significantly stronger willingness for Chinese consumers to travel overseas than in 2019. South Asia and North Asia remain the most popular regions for travelling in 2021. 

2021 Question: Where do you intend to travel when the pandemic is over?
2019 Question: Where do you intend to travel in the next 12 months (2019)?
Europe and Middle East see the highest year-on-year growth of 4.2% and 5.3% respectively. North America is the only region to have a decline in 2021, whereas South America sees a minimal difference. Australasia and Africa also enjoy a 1.6% and 1.9% growth respectively.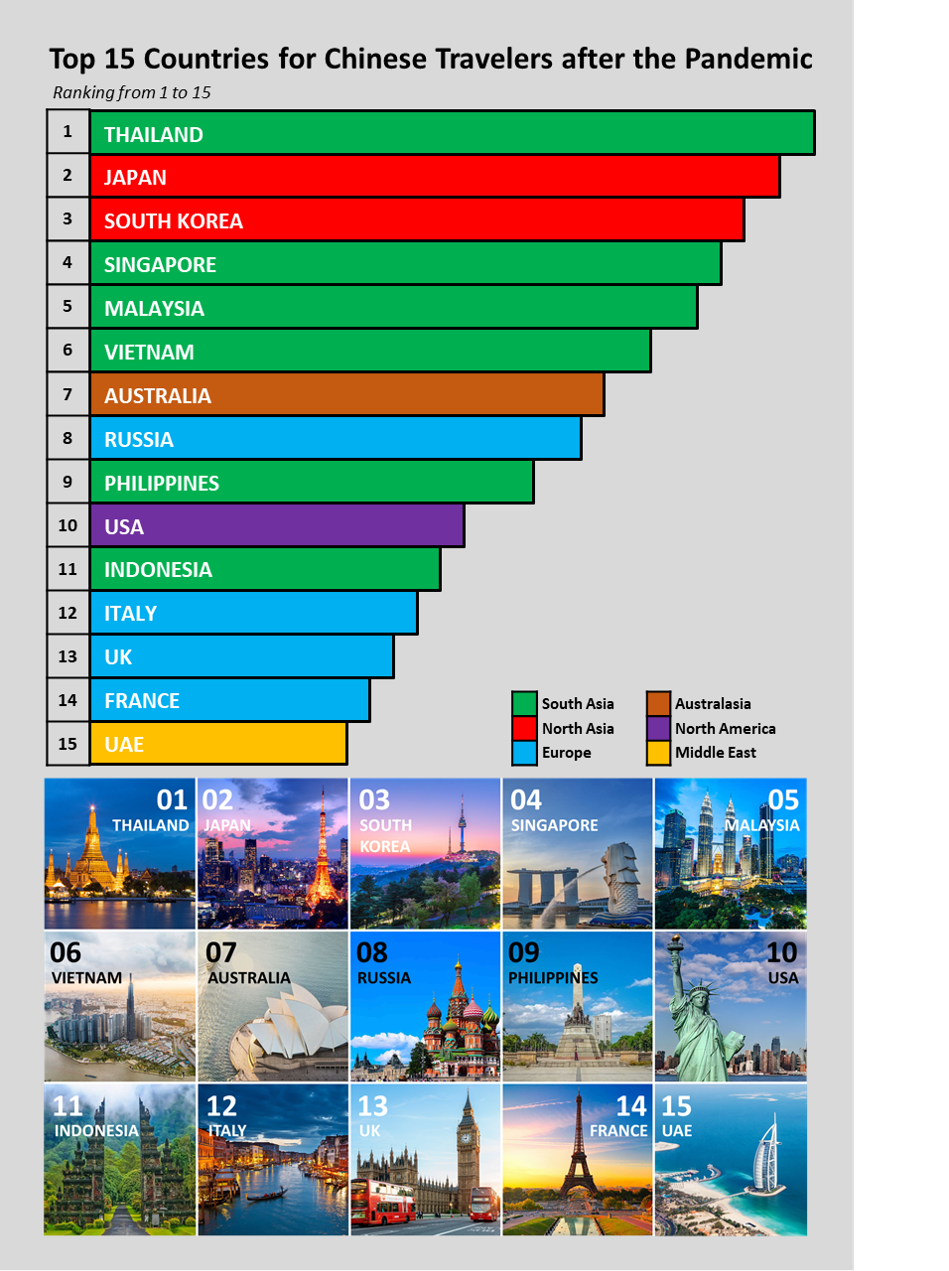 Question: Which countries do you intend to travel to after the pandemic?
Thailand, Japan, and South Korea are the top 3 most popular countries for Chinese travelers. Among the top 15 countries, 8 are from Asia, 4 are from Europe (Russia, Italy, UK & France), 1 from Australasia (Australia), 1 from North America (USA) and 1 from Middle East (UAE).
Are any of these countries your next travel destination after the pandemic?
The survey data also indicates that Chinese travelers heavily rely on digital channels to gain travel related information and to purchase travelling products. How about you? What channels are you most likely to use for purchasing the travelling products of your next trip?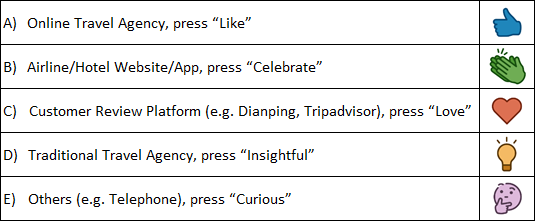 Thank you for your opinions. We look to have more interesting findings to share with you soon so stay tuned.